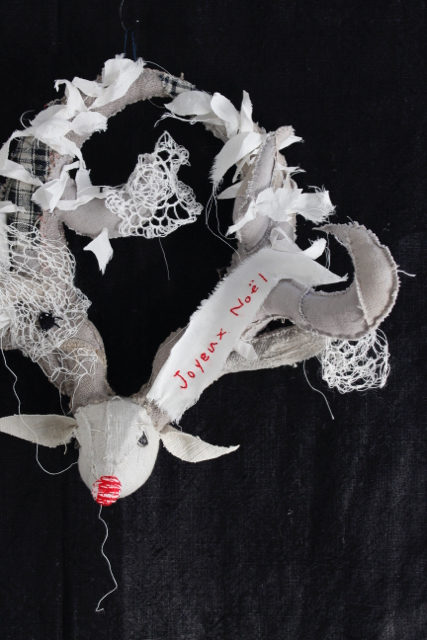 Great work got into the reindeer.
Carrying a beautiful wreath gift for Christmas.
It was a gorgeous wreath that looked dazzling.
He could not sleep with his heart pounding on the night before Christmas.
And it is finally Christmas day.
He was exhausted by his throb and fell asleep.
The reindeer who got up in a hurry runs down the mountain at a stroke.
Hurry up, hurry up.
It has become night, but he managed to reach the destination's home.
However, he forgot the gorgeous wreath.
The falling reindeer.
A child in the house said to a dirty reindeer with leaves and a spider's web.
"A nice wreath, stay home for a while."
The reindeer was made to attach ribbon.
His nose was bright red with joy.
トナカイに大仕事が舞い込んだ。
クリスマスに綺麗なリースのプレゼントを運ぶこと。
それは、目のくらむような豪華なリースだった。
クリスマスの前の夜、ドキドキして眠れなかった。
そして、いよいよクリスマスの日。
ドキドキに疲れ果て、眠ってしまっていた。
慌てて起きたトナカイは、一目散に山を駆け下りる。
急げ、急げ。
夜になってしまったが、なんとか届け先の家まで着いた。
しかし、肝心のリースを忘れてしまった。
うなだれるトナカイ。
葉っぱやクモの巣がついた汚れたトナカイに、その家の子供が言った。
"素敵なリース。しばらく家にいてよね。"
リボンを付けられたトナカイ。
嬉しさで鼻は真っ赤になっていた。