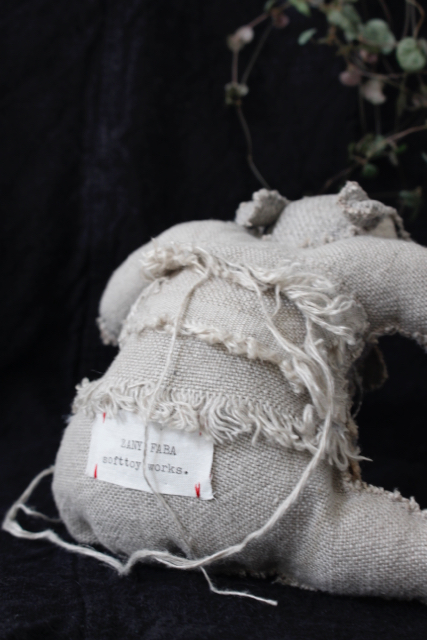 Bear that fell down on hunger.
When he waked up, he was in a corner of the hospital.
The hospital room seems to be full.
He does not understand the situation so much.
Because, He is shortsighted bear.
After a short time, he is heard approaching footsteps sound, no , feathers sound.
"You are only hungry,are you?"
It is a woman 's nurse who is graceful, talking with a half laugh.
The bear which had a feeling that it was made a fool a little.
However, there are not the spirit to retort.
"Because I had a doctor examine it a while ago, it is all right."
I change completely, and the nurse talks seriously.
"The cause is shortsightedness. Because I am the same, I understand it. This is for you."
Glasses small as for what was held out in that way.
The bear which I pick up glasses fearfully, and looks around the circumference over glasses.
"Oh. … to see"
A voice has leaked unintentionally.
In the circumference of the bear, there were the creatures which overflowed almost.
Ominous words called "war" floated when I guessed from the condition of the injury.
One or … which I did not see so much.
A bear to be amazed at.
"I wrote a letter of introduction in various ways, go here". Take care of yourself."
The graceful nurse talk about in a calm tone. Surely I should be busy. However, it is …
Bear full of the feelings of thanks.
"Th, thank y…"
The nurse flapped whether a bear finished giving thanks, or you did not finish speaking.
He must not disturb.
In that way it was decided that the bear left the hospital.
next episode…
空腹で倒れた熊。
目が覚めたところは、病院の部屋の一角だったらしい。
病室と言われるところは満員のようだ。
いまいち状況がつかめない。
何せ、この熊は極度の近眼だ。
しばらくすると、近づいてくる足音、いや、羽音がした。
「あなた、お腹空いてるだけでしょ?」
半笑いで話しかけてきたのは、品のいい、女の看護師だ。
ちょっとバカにされた気がした熊。しかし、言い返す元気もない。
「さっき、先生に診てもらったから大丈夫よ。」
打って変わって、看護師は真面目に語る。
「原因は近眼ね。私も同じだからわかるわ。これ、どうぞ。」
そうして差し出されたのは、ちっちゃな眼鏡。
カチャッ。
恐る恐る眼鏡を手に取り、眼鏡越しに周りを見渡す熊。
「あ。見える・・・」
思わず声が漏れてしまった。
熊の周りには、溢れんばかりの生き物たちがいた。
怪我の具合から推測すると、"戦争"という不吉な言葉が浮かんだ。
こんなに見えてなかったのか・・・
愕然とする熊。
「いろいろ紹介状書いておいたから、ここに行ってみて。お大事に。」
落ち着いた口調で話す品のいい看護師。きっと、忙しいはず。それなのに・・・。
感謝の気持ちで溢れる熊。
「あ、ありがと…」
熊が、お礼を言いきるか言いきらないかで、看護師さんは羽ばたいていった。
邪魔をしてはいけない。
そうして熊は、その病院を後にすることにした。
つづく。