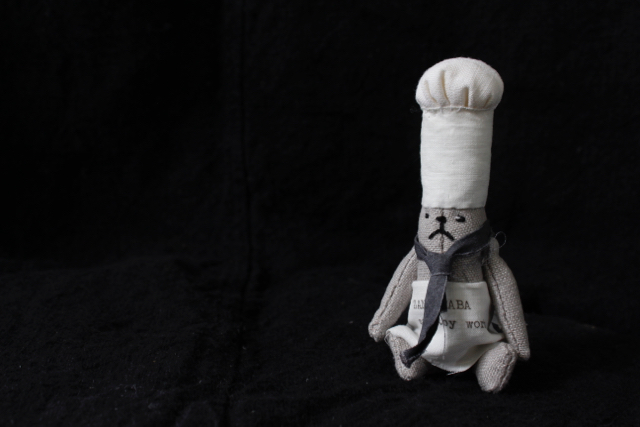 The cooking skill of the small chef is the best.
Of course he has a strong consciousness of the hygiene management, too.
There are more voices to rise in the front stage in downtown.
However, the chef has a serious secret.
In fact, oneself being a mouse.
He hid one's identity, and hygiene management was hammered in into a first rank shop thoroughly when he passed ascetic practices.
"The mouse does not enter the kitchen kept clean well. At first the shop where a mouse is is no good."
The small chef was much really worried since he heard the words of the teacher at that time.
I am, mouse…
He cannot say. He can never say.
He did not separate a cook hat.
He was afraid that one's identity came out above all.
He came to avoid a friend gradually.
He was said to be stubborn that he is blunt, but is good much more than identity comes out.
He likes dishes.
A visitor eating with great relish likes it.
However, he is never off guard.
The gentleness to show from time will be a part of a little "essence" which he shows.
next episode…
小さなコックの料理の腕前は一流だ。
もちろん、衛生管理の意識も高い。
もっと街中で表舞台に立ったほうが良い、という声も多い。
しかし、コックは重大な秘密を抱えている。
実は、自分はネズミだということ。
自分の素性は隠し、一流店に修行に通っていた頃、
衛生管理を徹底的に叩き込まれた。
「しっかり清潔にされた厨房にはネズミは入らねーんだ。ネズミなんている店は、まずダメだ。」
その時の師匠の言葉を聞いたときから、小さなコックは、ずっと気が気ではなかった。
自分、ネズミっス…
言えない。絶対に言えない。
彼は、コック帽を離さなかった。
自分の素性がバレることを何よりも恐れた。
いつしか仲間を避けるようになった。
ぶっきらぼうだ、とか頑固だ、とか言われたが、素性がバレるより全然良い。
彼は、料理が好きだ。
美味しそうに食べるお客も好きだ。
しかし、決して心を許さないのだ。
時より見せる優しさは、彼が見せる数少ない"素"の部分だろう。
つづく。