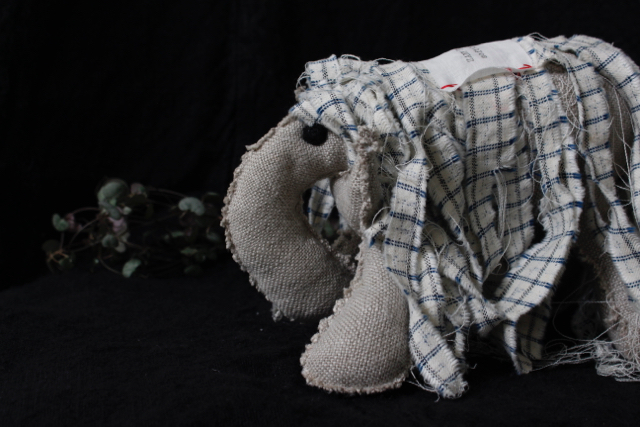 A shadow like a mop slowly walking.
He is a legendary mop mammoth.
It is neither too big nor aggressive.
He is, to a large extent, lonely.
He will never be wanting to be alone.
And he is extremely indecisive.
Slowly, slowly approaches a group of elephants.
The elephants thought that he saw this glitterly,
They scatter as if they remembered their purpose.
Even his appearance, oddity is added to suspicious behavior.
He just wants to make friends, but indecisive movement exceeds the imagination of what he see.
I think whether to come near here, or change the direction to a different place.
I wonder if he is going to get there, and it approaches.
Looking at him with an ordinary idea, it seems that you often lose sight of it.
In that way, he became a legendary animal.
Winter will come soon.
He knows the Ice Age of the heart.
next episode…
ゆっくりと歩くモップのような影。
彼が伝説のモップマンモスだ。
さほど大きくもなく、攻撃性もない。
彼は、大らかだが、寂しがりなのである。
一頭でいることを望んでいるわけでは、決してない。
そして、彼は極度の優柔不断だ。
ゆっくり、ゆっくり、象の群れに近づく。
象たちは、チラッとこちらを見たかと思うと、
それぞれが用を思い出したかのように散っていく。
彼の見た目もそうなのだが、不審な行動に奇妙さが上乗せされる。
仲間を作りたいだけなのだが、優柔不断な動きが、見るものの想像を超えるのである。
こちらに近づいてくるのかと思いきや、違うところに向きを変える。
そちらに進むのかと思いきや、近づいてくる。
普通の考えで彼を見ると、見失うことも多いようだ。
そうやって、彼は幻の動物と呼ばれることとなった。
もうすぐ冬が来る。
彼は心の氷河期を知っている。
つづく